Four students from Epitech Brussels collaborated in the creation of MyPolice-Belgium. Their main mission was to work on a mobile and ergonomic version of the functionalities of the Federal Police website. This mobile application makes valuable information accessible to all citizens, no matter their disability.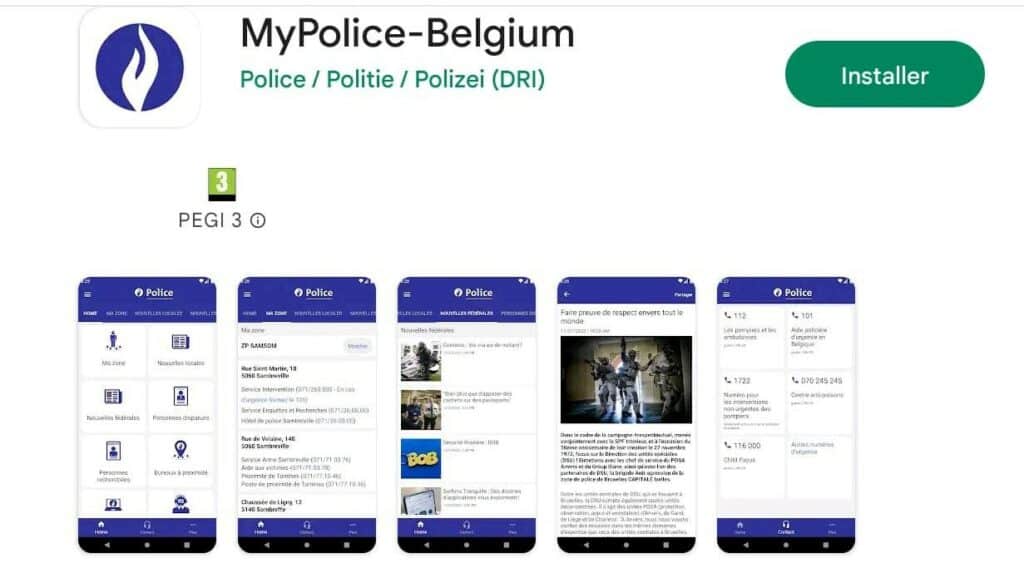 An unlikely collaboration?
The partnership started with a chance encounter between Epitech – the school of innovation and IT expertise – and the Belgian Federal Police. The Police was looking for solid technical skills to create a mobile application that facilitates access to information and digital technology for citizens without discrimination. Seduced by the idea, the students of Epitech Brussels quickly joined in and invested themselves to carry out the missions of this project. This collaboration was a success on several levels: the realization of a useful application for citizens, but also a partnership that lasts in time.
Epitech places innovation at the heart of its curriculum, which is why MyPolice-Belgium represented an ideal opportunity for our students to combine technology with a positive societal impact!
For Hugo Peuzé, one of the four students who participated in the project, this opportunity also had an extra dimension:
For me, this collaboration was especially rewarding because it allowed me to discover the functioning of a large structure such as the Police, something I had never been able to experience during my various internships.
An opportunity to recruit new talent
Vincent Moreau – General Product Manager and first ICT Advisor within the Federal Police – has closely supervised and followed the work of our students. He says he is very satisfied with it and is looking forward to further collaborations in the future.
To ensure the well-being and security of citizens in and out of cyberspace, the Federal Police places innovation at the heart of its initiatives. Hence the importance of drawing ideas from the new generations, being agile and seeking excellence.
Wim Liekens, Director of Police Information and ICT of the Belgian Federal Police, also emphasized these aspects:
It has always been the objective of the Integrated Police and the Directorate of Police Information and ICT to be as close as possible to the citizens. Moreover, it was particularly

important to work with the academic world in order to look for talent in the field of ICT. There is a lack of professionals in this field.

The collaboration with Epitech Brussels allowed young people to express their talents by developping a modern app. It was fruitful in many ways. Not only were we able to develop an app for the citizen, but also to establish a real partnership. […] Among other things, this collaboration allowed our management to make itself known to Epitech students and to recruit one of the graduates from this school afterward.
With an experience of more than 20 years in the training of IT experts in France, but little known in Belgium, Epitech Technology is delighted with this pledge of confidence from a public institution that is more flexible and innovative than we imagined.