During their studies, Epitech Technology students become IT experts. The project-based pedagogy implemented within the school transforms the students into actors of their own education and teaches them all the tricks of the trade in the IT industry. In addition to the projects they must complete as part of the curriculum, students have the opportunity to freely explore and experiment with technologies that interest them. How do they do this? By taking advantage of the school's Innovation Hub – an equipped space designated to incubate their projects.
"The hub strives to encourage, support and promote student creativity as well as develop their expertise and open-mindedness […]"
In addition to the realization of personal technical projects that students can carry out in partnership with a company or on their own, this incubator also hosts conferences and debates.
The leitmotivs of the Hub are "to be challenged, to understand, to learn, to be inspired and to experiment".
Antoine Van Gorp, a 2nd-year Epitech student and head of the Epitech Brussels Innovation Hub, was willing to answer a few questions.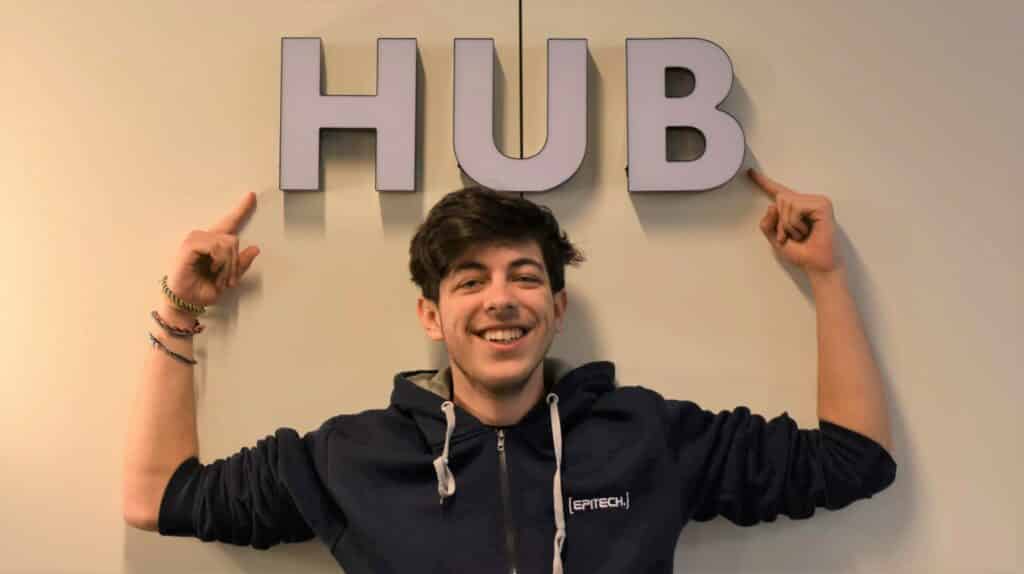 What is the Epitech Brussels Innovation Hub for you?
The idea of the hub is very interesting because being able to do projects on our own makes us think outside the box, outside of what we learn every day in class.
As for the usual projects, we are in total autonomy. We have to set aside time to follow our schedule, and do our research. We reuse and apply the active pedagogy of Epitech and its methodology, which is very useful.
Before, as computer scientists, we were just asked to know how to code. Now, we have to truly understand the problems and adapt to them. We need to have a broader understanding and knowledge of the tools that exist.
The hub is an opportunity to get interested in all the technologies and understand them in a real situation. For example, with Arduino, we learn a bit about electronics, what a component is, a led, etc. And we are able to make the link with computer science.
How does the Hub represent innovation?
Innovation is having an idea and bringing it to life. It's not necessarily something new for the world, but it is for us. It allows us to evolve as computer scientists.
What is your role exactly?
If other students have questions, my role is to guide them and help them. Basically, I give an outside perspective, which is sometimes interesting as a computer scientist. It allows us to find solutions that we wouldn't have thought of if we were working alone.
Then, I take care of everything related to the hardware: orders, budget, implementation, etc. For example, if someone wants to do a virtual reality project, I would have to make sure they have a headset. If they don't have one, I would have to make the necessary arrangements with the management to get it.
How do you plan to develop the Hub in the future?
Currently, the hub is generally used to earn missing credits. The first and second years of study at Epitech Technology are loaded with projects. So students don't necessarily need to spend time in the Hub.
My goal is to invite them to invest time in discovering new technologies. It's a job that can't be done in one day, of course. But I think that the Hub talks that we organize on Tuesday evenings can already interest students and give them ideas.
From the third year onwards, the place of the Hub is more important in our credit calculation. Now that distance learning is over, the Hub is open all the time and it encourages curious students to come and take a look and get involved in a project of their own choosing.
How do you motivate other students to get involved in the Epitech Brussels Innovation Hub?
The idea would be to give the opportunity to the students who have a project and wish to do so, to present it orally to the others. It is a very good exercise for our future (in terms of the skills we gain), but we also hope to motivate the other students to develop their own projects. The fact that we can talk to each other, that we understand each other when we speak in "computer language" is clearly an asset. It will bring them new notions about these technologies without having to make much effort and we hope that it will motivate them.
The final word:
Epitech Technology gives us the chance to have access to infrastructure and equipment and gives us the means to develop our own ideas, which we probably couldn't do on our own. Other students don't necessarily have the same opportunity. The school pushes us and invites us to develop our interests and that's part of the Epitech Technology mentality. That's the main innovation.
The theme of the conference scheduled for May 17 from 6 to 7:30 p.m. will be cybersecurity, in partnership with Wavestone.