Our students are our greatest pride and their journeys are inspiring examples for us all. Whatever your age, profile or ambitions, we hope you will find yourself in one of these descriptions, and that one day you will be able to tell your own success story.
Succeeding is not only a question of will, qualities or predispositions. You need to trust yourself, follow your dreams, count on your own experiences, on your projects, on your discoveries, on what shapes and transforms you. But there's a saying: alone we go faster and together we go further. To succeed, you will also need the support of others: different encounters and figures will inspire you, certain initiatives will open up new horizons for you, companies will teach you the basics and have an impact on you, and your career. Your success is yours. Our mission is to help you reach out to individuals, initiatives and opportunities that will bring you much more than you can imagine. We will give you the tools with which you will build your own success.

Melty, the first generalist news site 100% dedicated to young people
Founded by Alexandre Malsch, Jérémy Nicolas and Jonathan Surpin (class of 2009), Melty was an EIP project before becoming a leading media group today among millennials.
With more than 10 million unique visitors per month, Melty is the first generalist news site 100% dedicated to young people and covering news, trends and youth culture.
The main mission of Melty, is to inform and entertain the younger generation, whoever and wherever they are.
For Melty, youth is not a question of age, it's a state of mind. Sitcoms, music, movies, TV, video games, but also social issues – melty offers the latest news and exclusives on the topics that fascinate today's youth, all in a friendly tone.

Fulllife, the first Gameswear Company
In March 2021, Alexandre Marsh launched Fulllife. The start-up aims to be the first lifestyle brand inspired by video game and e-sport culture.
This new DNVB (Digital native vertical brand), supports and promotes the global gaming movement. Fulllife bridges the gap between the real and the virtual by designing products and experiences to enable all gamers to live their passion to the fullest.
"Fulllife is a bit like carrying the video game experience with you, but in real life. We're addressing a target audience that is capable of buying products that don't exist, like accessories for their characters' clothes. Our mission is to bridge the gap between the online gaming world and the real world."
Alexandre « Netmad » Malsch, PDG.

Witick makes life easier for public transport users
Founded by Romain Combe, Fabien Linardon and Rémi Hillairet (class of 2017), Witick is a transport ticket purchase and validation application developed in the Bordeaux region.
Romain, Fabien and Rémi signed a contract with Thales and worked hard to improve their product. Two and a half years of development were necessary, and in May 2019, Witick was chosen by Bordeaux Métropole for its TBM (Transports Bordeaux Métropole) network.
« "They have chosen our little start-up while big companies were candidates." ,
Romain .
In 2021, they raised a second round of funding of €1.35 million. What started out as an end-of-course project by a group of computer science students at Epitech Technology Bordeaux is now emerging as a truly innovative service.

Docker: A Developer's Story
Founded by Solomon Hykes (class of 2006) and Sébastien Pahl (class of 2009), Docker is a solution based on software containers that has revolutionised the work of developers by automating it. They have raised several tens of millions of dollars in funding. While containers have been used in Linux and Unix systems for some time, Docker helped popularize the technology by making it easier than ever for developers to package their software to "build once and run anywhere."

The Brigad story: a mixture of passion and entrepreneurship.
Created in 2016 by Jean Lebrument (class of 2015) and Florent Malbranche, Brigad was initially a platform for connecting restaurant owners and independent professionals in the hospitality sector. They have expanded to other sectors such as retail, health and construction.
In 3 years, the equivalent of more than 2 million hours of work have been completed through the Brigad platform.
In four years of activity, Brigad has become a reference in France and the United Kingdom and allows more than 10,000 freelancers to make a living from their skills and more than 15,000 companies to call on talented staff in just a few clicks.
In 2020, the company officially became a mission company and launched itself in the health sector.
"We are extremely proud to have enabled more than 10,000 freelancers to live freely from their skills." 

Flat: Taking compositions to the next level
Founded by several Epitech Technology students including Pierre Rannou and Vincent Giersh (class of 2014), Flat is a collaborative music score editor. With nearly 3,000,000 users in 189 countries, Flat has revolutionised the way music is played and shared.
"We build delightful products that transform how music enthusiasts learn, write, share, and consume music."

PrestaShop: Unlocking the full potential ecommerce
Founded by Bruno Lévêque (class of 2007), PrestaShop is one of the major players in e-commerce. PrestaShop has a worldwide community of over 1 million members.
With nearly 300,000 sites already using its software across the globe, PrestaShop is the leading open-source ecommerce solution in Europe and Latin America.
In 2020, PrestaShop sites generated more than 22 billion euros in online sales.
Starting from November 2021 PrestaShop became part of the global family of MBE Worldwide to accelerate its growth and become together the leading global ecommerce and logistics platforms for businesses.

Railz : the app that transforms rail information
Launched in 2017 by a group of students including Jonathan Jean and Corentin Grandmaison (class of 2020), RailZ is a collaborative rail information application, a sort of "Waze for trains" as the press calls it.
Since 2018, the app has been rolled out nationwide in France to all TGV, TER, RER and Intercity lines, with 1,000 to 1,600 users daily.

Pheal: An innovative concept
Alumni of the class of 2019, Antoine Bertrand, a cystic fibrosis patient, used his personal experience to co-found the startup Pheal. The concept?
A kit of connected objects made available to the patient, which allows him to collect measurements to help him detect possible alerts
This early detection leads to a reduction in the delay of the care process.
Prototyped in the 3rd year, winner of the Epitech Experience 2019 trophies, the student project has turned into a growing startup.
"Our belief is that by following the weak signals of the disease, we can prevent its development rather than waiting to cure it."
Successful
student and alumni entrepreneurs
Lokki makes daily life easier for rental professionals
Co-founded in 2019 by Jérémy Masbou (Epitech Technology class of 2015), Lokki is a simple and "all-in-one" software for equipment rental companies. In 2021, the startup raised €500,000 from Seed4Soft, Super Capital and Bpifrance Rhones-Alpes.
The funds raised will enable Lokki to accelerate the marketing of its solution and to develop new features to facilitate the daily life of rental professionals, surfing on a market that has been growing steadily for the last ten years.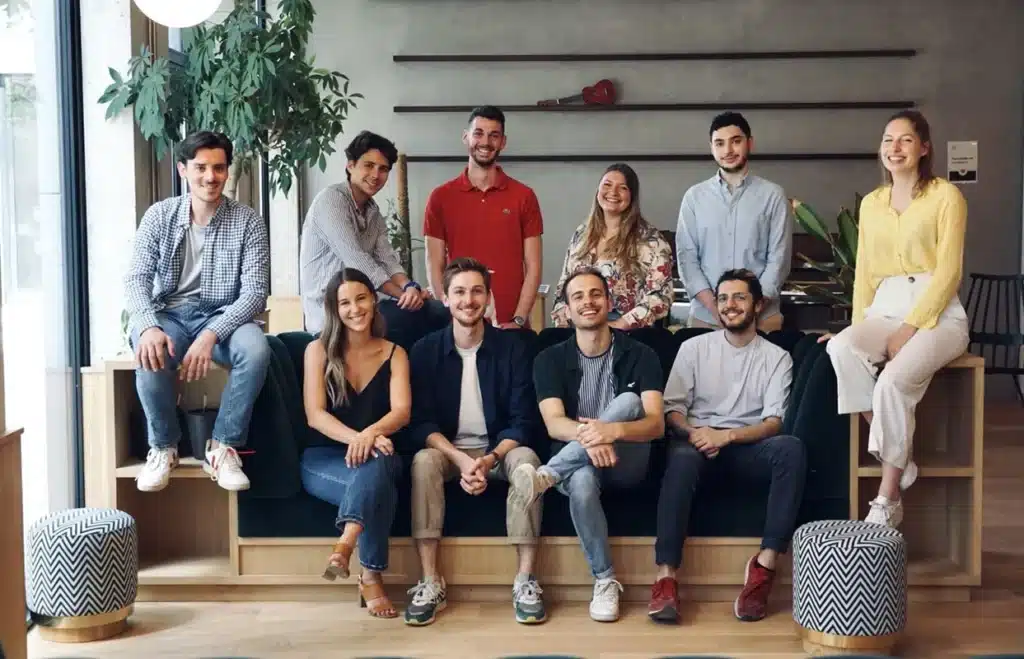 "Become the most trusted digital partner for equipment rental companies in France." 
Agriconomie, the new agricultural technology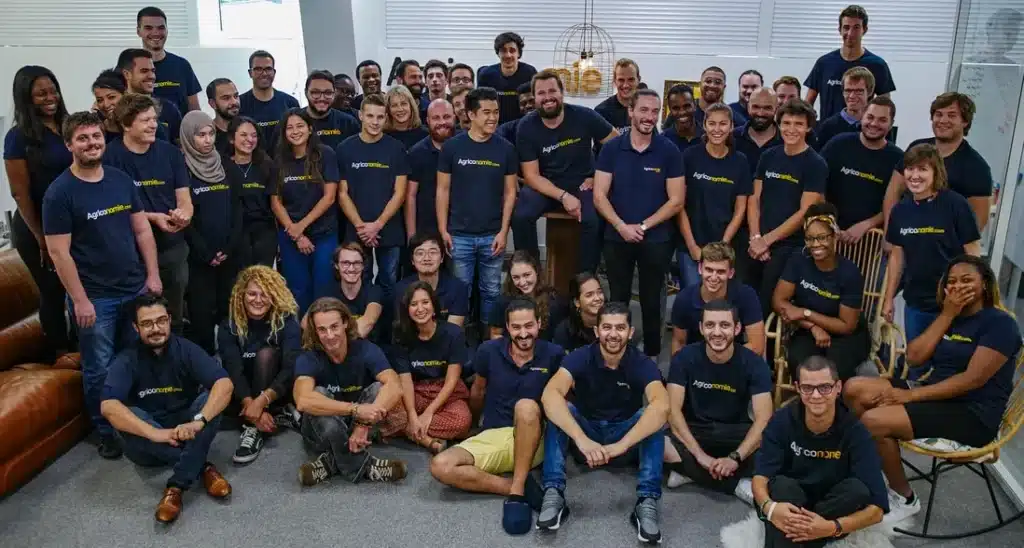 Created in 2014 by Dinh Nguye, a graduate of Epitech Technology (class of 2012) and two students from HEC Paris, Agriconomie has revolutionised the sector of product distribution for farmers. The online sales platform, reserved for small and medium-sized agricultural businesses, saves its customers precious time, based on the idea of supplying the needs of farms on a single site and at the best price.
The company, which is a partner of farmers, currently employs 70 people and achieved a turnover of more than 40 million euros in 2020, with its portfolio of more than 55,000 customers, i.e. more than 20% of French farms.
"The brilliant idea of the company's founders is based on a simple observation: farmers have no time to lose." 
R-PUR, a mask solution conceived before the Covid-19 era
R-PUR, was born from a desire by Flavien Hello (class of 2015) to meet a need for protection against air pollution.
In 2015, he and Matthieu, the co-founder of R-PUR, decided to manufacture a high-quality mask, before raising several million euros in two rounds of financing.
In 2020, they took part in the show "Qui veut être mon associé" (Who wants to be my partner?) broadcast on M6 (from 27′ in the video), where their performance was particularly praised.
« "With the Covid-19 crisis, there was a before and after in the relationship with the mask: it was the most impressive transformation of a market we had ever seen, a metamorphosis never experienced before. Before the health crisis, the mask was not anchored in people's minds as it was in Asia. Today it is widespread and, above all, authorised everywhere!"
Guillaume Prévost,
the atypical startupper
Guillaume Prévost, the co-founder of the start-up Friend Theory, which supports mutual aid between travelers from 18 to 25 years old, joined Epitech Technology Toulouse in 2009.
He chose Australia as the host country for his year abroad and returned to France with his head full of projects and with the desire to leave again! He returned to Australia at the end of his studies at Epitech Technology, hired by the university which had welcomed him during his exchange year.
After almost two years of professional experience, he then decided to live his dream and go on a world tour.
He planned to fly for 6 months but finished his trip only two years later…
On his return, he found a position with more responsibilities within the same Australian university, but finally decides to embark, in the summer of 2018, in his own entrepreneurial adventure.
The collaboration of
two successful Epitech Strasbourg Alumni
Epitech Technology is a thorough and ambitious tutelage, but it is also an opportunity to meet people.
Romain Vermot and Benjamin Chatelain met at Epitech Technology Strasbourg and it was then that they decided to disrupt the banking world.
Shortly after its creation, their neobank Moneway quickly obtained a major first capital investment of € 1,137,000.
Epitech Technology is used to this kind of successful launch
"The school has trained us very well, and we are grateful for this. We are often told that we are taught to learn, and that is entirely true. We knew very little about the banking world, but the training acquired at Epitech Technology allowed us to quickly master the tools that were required."
A brilliant all-rounder turned
CTO of a start-up at only 22 years old
Grégoire Ballot is an insatiable curious. While still a student at Epitech Technology, he "liked to do lots of things at the same time": intern in start-ups, co-founder of a personal development application in the professional environment, intern in the intelligence service of the Ministry of Defense… as far as Grégoire is concerned, he is as talented as he is young!
He begins to work on what will later become Bluecoders while on exchange in California during his fourth year.
Today he is the CTO of Bluecoders, and the start-up now has more than 45 employees.
How do you raise $ 10.6 million

just four years after leaving Epitech Technology?
As is often the case, it is during a year abroad that the story begins… Arnaud Camus meets his associates during his exchange year in Sweden. It was a year later, after their return, that they started working on Impraise.
They joined the well-known incubator and accelerator of startups in California, Y Combinator, during their last semester at Epitech Technology, which allowed them to immediately raise 1.5 million euros.
Today, based in New York and Amsterdam, Impraise has 60 employees, and has raised a second investment of $10.6 million. Based on what Arnaud explains, the school prepared him very well for this adventure:
"Epitech Technology taught me how to learn and I think that's the strength of this school. We learn technologies that are not necessarily the ones we are going to work with, we learn to fend for ourselves to achieve a result, and I think that as an entrepreneur it is really something important."
The journey of a software engineer
in a large Silicon Valley company
Nicolas Vincent is part of the 2011 Epitech Technology class, and he is now based in San Francisco, where he works for the start-up Nextdoor as a software engineer. After spending his exchange year in Long Beach, he wanted to try his luck to carry out the American dream. He has no trouble getting a job there and starts off with Couchsurfing and then with the well-known TechCrunch, a site specializing in technological news that needs no introduction.
But it is today at Nextdoor that Nicolas, who really wanted to work on the redesign of a site, found what he was looking for. Nextdoor's success is growing, and already has tens of millions of users, in more than 185,000 neighbourhoods worldwide. Nicolas is proud to be able to help people connect in the same district, every day.