Between August 31 and September 11, 2020, Epitech's third-year students took part in the Moonshot Pool, the first stage of the Innovation Cycle. The goal? To imagine an innovative project that responds to a societal problem posed by professionals. Let us look back at the first two weeks of the new school year during which the students were immersed in the process of creating their future Epitech Innovative Project (EIP).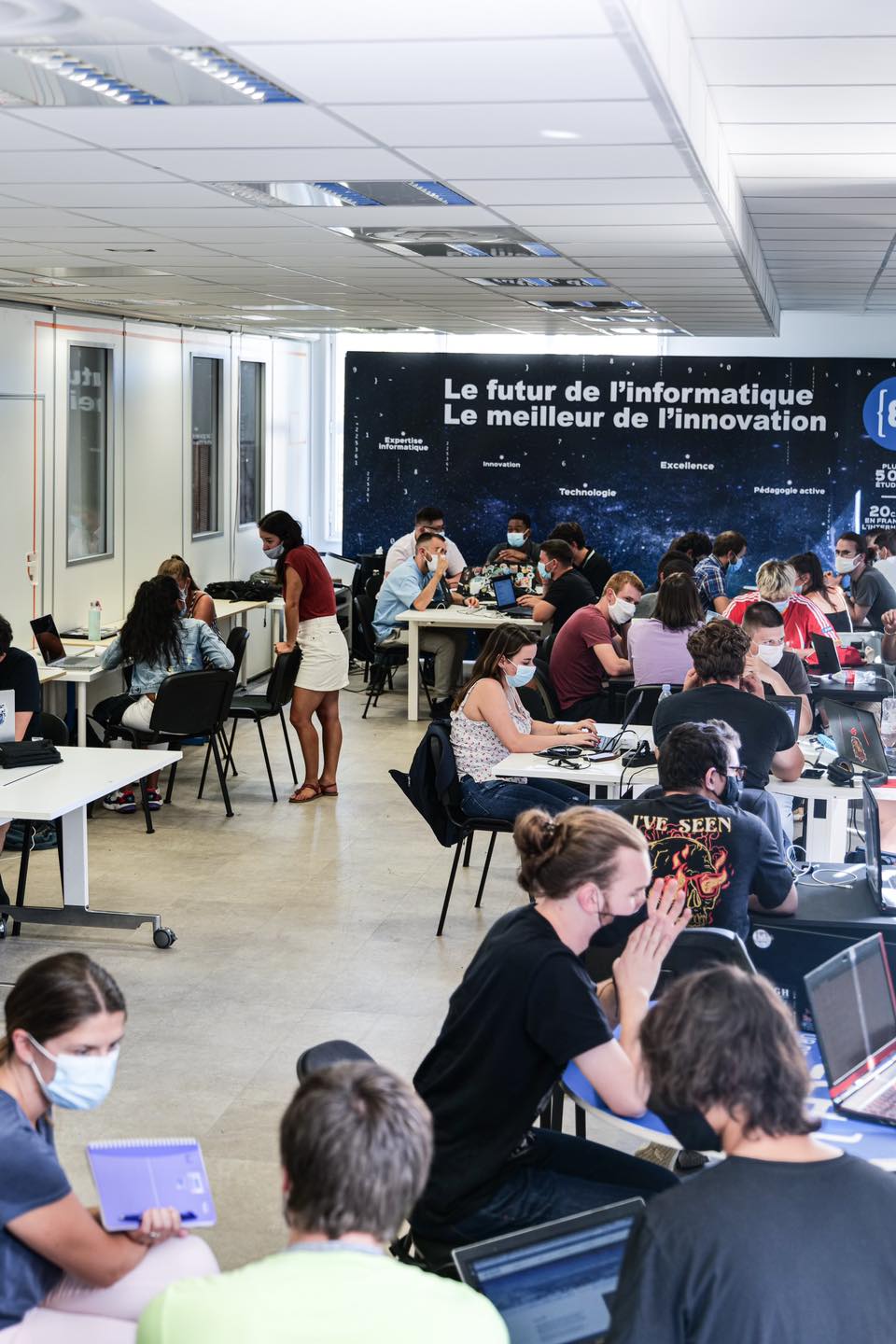 For our third-year students, the start of the school year rhymes with Moonshot. Well beyond computer skills, the objective of this ideation phase is to raise awareness of societal issues, and to push the students to respond positively to them.
First… Listen ! Then… Create !
Thanks to our partnership with Latitudes, students were able to attend lectures given by experts on four main themes: #Society, #Life, #Climate & #Work. With the mentors' help, the Epitech students reflected on solutions which they presented during problem solving and pitching sessions.
The week started with a conference on the theme of #Society, which tackled the issues of inclusion, professional integration and living together. The first day's speakers were Maud Sarda, co-founder and director of the Emmaus Label, and Brieuc Le Bars, founder of Code Phénix. "The Emmaus Label is a cooperative that belongs to the famous Emmaus movement founded by Abbé Pierre. With the help of a few developers, we have created a platform for buying second-hand products that recruits people who are excluded from employment", says Maud Sarda, before proudly asserting: "Today, our Marketplace reaches a huge number of people and emits 7 times less carbon than a physical shop!"
The association Code Phénix, for its part, enables the reintegration of ex-convicts by training them in web development. "In my opinion, it's a real issue to lower the barriers for people who would never have seen themselves coding one day" explains Brieuc Le Bars.
"Fight against social isolation"
The second day of the Moonshot Pool was dedicated to the theme of #Life. Jean-Baptiste Ronat – Project Development Manager, Baptiste Le Corre – Engineer and coordinator of the Mini-Lab project, both from Médecins Sans Frontières and Marie Alméras – Deputy Director for Strategy and Innovation at the Red Cross, came to raise awareness among the students about current issues surrounding health and solidarity.
"Technology allows us to maintain a link and share information to fight against social isolation," Marie Alméras points out. This explains one of the issues mentioned by Jean-Baptiste Ronat: "There is a lot of room for new tools in countries with limited resources."
If poor or developing countries are known for being open doors to opportunities, developed countries also present challenges: "Today, there is a cruel lack of technological tools to solve the problem of fake news in science", Jean-Baptiste Ronat reminds us. He ends with a piece of advice for our students: "We must make sure that the needs of the users are taken into account in order to target innovations and create a technical solution".
Empowering computer science students, who have all the tools needed to change the world!
On Wednesday, the #Climate theme was in the spotlight, with a conference on tomorrow's challenges in terms of environment, climate and energy. We were pleased to welcome Véronique Torner, co-founder and co-president of Alter Way, a company specializing in auditing and developing Open Source web applications, and Thomas Rialan, co-founder of Magelan.tech, which helps tech companies and startups adopt low-carbon and environmentally friendly models.
Véronique Torner opened the conference with a strong message for our students: "You are a generation that has the tools to communicate, and it is therefore your responsibility to act". According to her, one of the big challenges in the digital world is to "be able to measure your environmental footprint, because there is no common methodology at this level yet".
For Thomas Rialan, "becoming aware of environmental issues means asking questions about the utilization, and therefore about the design of our product: how I develop it, its functionalities, etc."
This question is all the more important as current resources are limited: "today, there is not enough lithium for everyone to own an electric car".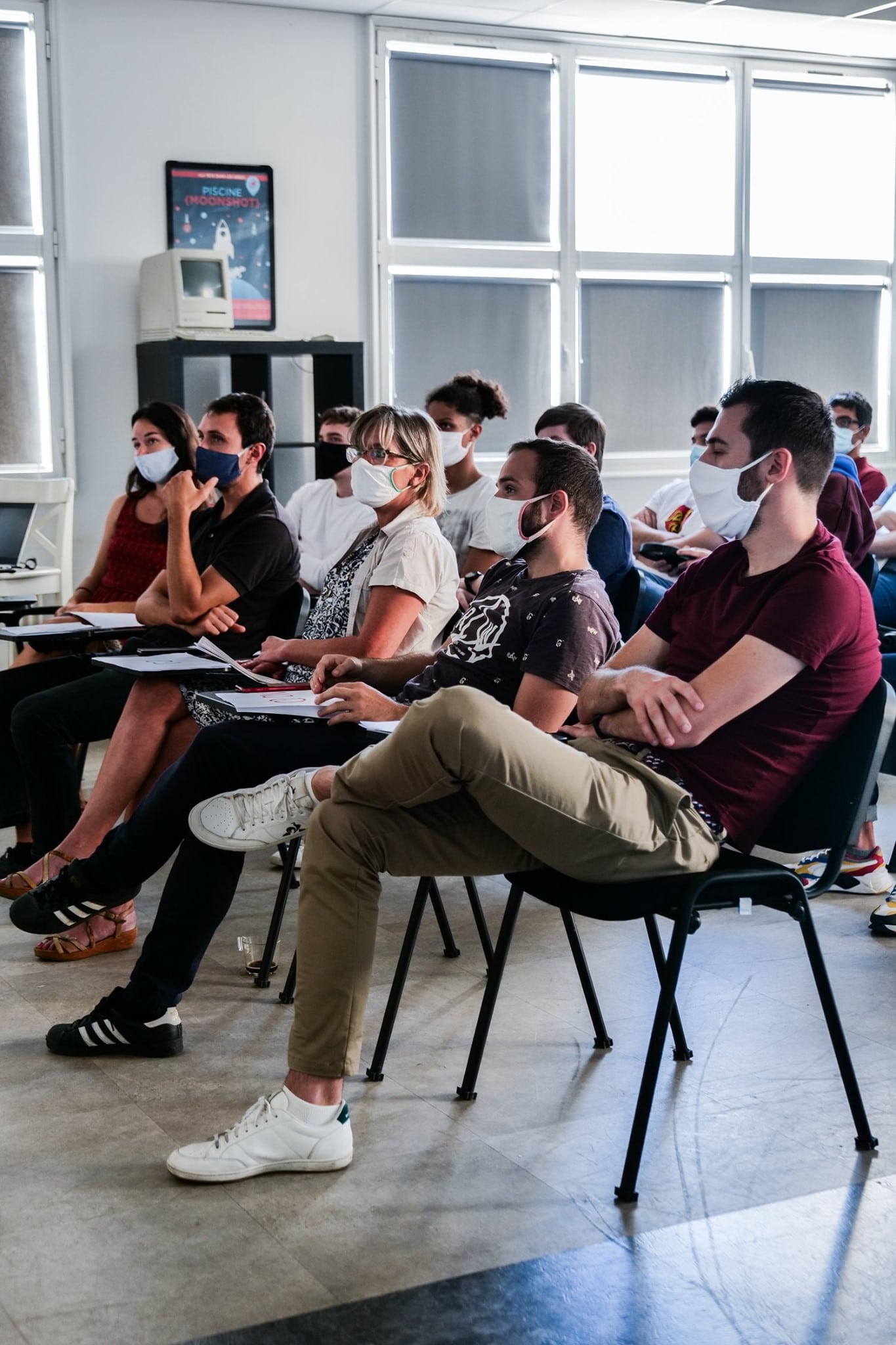 The last day of the conference was dedicated to the theme #Work. How can we imagine new ways of organising work in the future? What will be the future codes? Benjamin Brial, co-founder of Cycloid, a DevOps framework that aims to accelerate the transformation of IT organisations, and Léa Zaslavsky, co-founder of Makesense, an international community that accompanies and brings together committed citizens to solve together the social and environmental challenges of the 21st century, tried to answer these questions.
A hackathon to test ideas against reality
And to end the week in style, a "Hack'In Track" hackathon was organised, during which our students formed different teams and developed the ideas on which they will be working until their fifth year. Interesting projects, the fruit of quality work, were born during this first week of the Moonshot Pool!
The second week of the Epitech Moonshot consisted of a Google-style Design Sprint. Throughout the week, the students used innovation methods employed by the tech giant. Workshops, setting up projects, collecting users' opinions…, they worked throughout the week as if they were in a real Tech company. The aim of this week was to get the project testers to adhere to their ideas. Every morning, daily information was broadcasted to all Epitech campuses.
A first for Epitech Brussels
It was Epitech Brussels' first Moonshot Pool. The students found this period particularly stimulating, and it was surely designed to be this way. "We enjoyed researching new ideas, exploring concepts and discovering technologies that already existed (and there was a lot to discover). During the second week, we took our best idea and pushed it as far as possible by making prototypes, mock-ups and developing our potential customers profiles," says Julien, third-year student and pedagogical assistant at Epitech Brussels.
Thanks to their coach, Clément Toukal, the students learned a lot about ways to reach their goals and the directions to take in order to shape their desired product.
"It was a really insightful experience that will help me in all of my future projects", Julien concluded.