On March 19th and 20th, the 5th edition of the Brussels Management Challenge took place online, and three Epitech students from Brussels and Nice were among the 235 participants. As part of an international and interdisciplinary team, they set off to do their best and ended up winning the overall prize. Business management is one of many skills encouraged and facilitated by Epitech.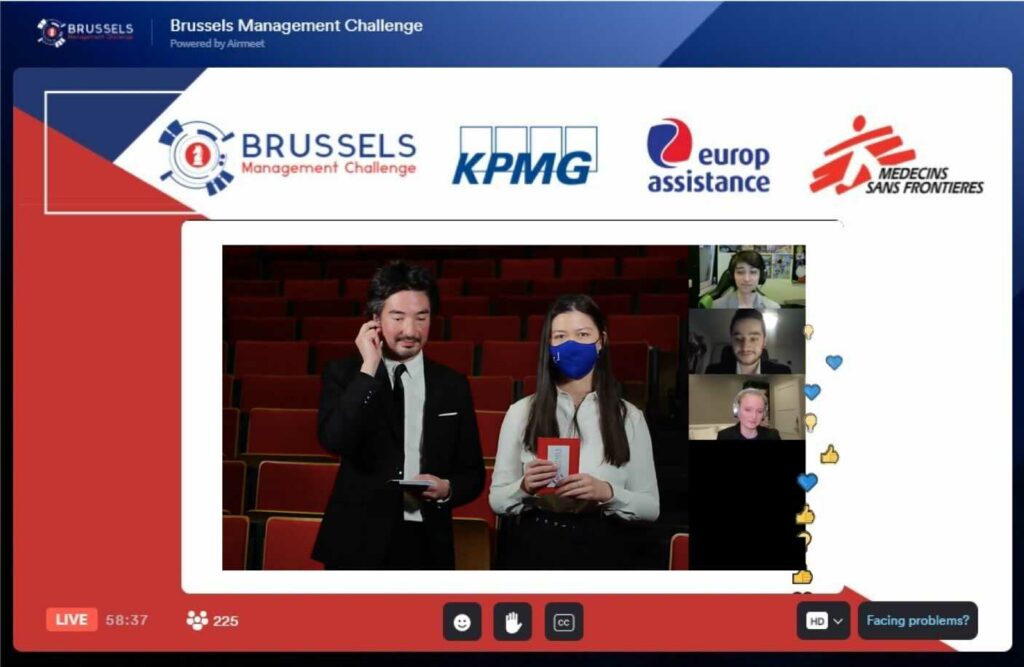 What is the Brussels Management Challenge?
Initiated and co-organized by ICHEC Junior Consult, a Belgian Junior Enterprise, ICHEC Brussels Management School and ICHEC Alumni, the Brussels Management Challenge is a Business Game « where Management meets Technology ». During 2 days, students bring their hard skills and soft skills together to come up with solutions to three challenges brought by the BMC's partners: KPMG, Europ Assistance and Médecins Sans Frontières. Each challenge had to be solved in no more than 6 hours! During a business game, students in the fields of technology, commerce, business management and marketing have much to learn from each other.
The 2021 Challenges
This year, KPMG asked the participants to establish an investment plan in the hotel and hospitality industry based on the analysis of an important amount of data. Europ Assistance challenged them to find a solution for attracting young people to a new insurance plan dedicated to them, and Médecins Sans Frontières to optimize the transport of parcels between Belgium and the Democratic Republic of Congo.
The Solutions they came up with during this business management challenge

Julien Stuckens (3rd-year student at Epitech Brussels), Magalie Vandenbriele and Théodore Faraut-Schwieg (3rd-year students at Epitech Nice), as well as their two management-oriented teammates (students from ICHEC Brussels Management School and Mannheim University), came up with viable answers and solutions to each one of these challenges, scoring highest among the participants.
They conceived a data analysis program to analyze a sizable database on European countries for KPMG. As an answer to Europ Assistance's challenge, Julien, Magalie and Théodore created a mobile application. And lastly, to solve MSF's problem, they repurposed their data analysis program to extract information and statistics so as to optimize the air and sea supply chain between Belgium and the Democratic Republic of Congo.
A positive and stimulating experience, to be repeated
Acquainted with one of the organizers of the Brussels Management Challenge, who presented the event to Epitech students and invited them to participate, Julien, a big fan of hackathons, signed up and prompted his fellow students from Nice to join the ride. For Théodore, it was a first: "I had never participated in a Hackathon or a Business Game. It was therefore the ideal opportunity for me to take up the challenge to work on original projects with qualified people in various fields."
When asked what motivated her to sign up for the challenge, Magalie admits owing her participation to the group: "They were all excited to participate and made me want to do it. Moreover, the Business Game looked very interesting!" Julien's account of the event was equally enthusiastic:
"The partners of the event gave us extremely interesting cases to solve, and I was able to learn a lot about data processing and management in general. The juries were also very responsive, and their feedback will hopefully help us do even better next time! We started this event as a team of friends doing our best every time, but we never imagined that we would end up with such a big win!"
Stimulated by the internationality of the event and by its interdisciplinarity, they all deemed the experience particularly positive, as Magali recounts:
"This challenge allowed me to meet new people and to acquire new management skills. I had the chance to work in a motivated and organized team. I can only take nothing but positive things from it."
Julien, Magalie and Theodore are working together on their Epitech Innovative Project, which consists of a work and communication tool that allows collaborators to meet in virtual reality, to exchange on projects alone or in groups in an environment similar to the real world – Torii. Unquestionably, their collaboration is fruitful even outside of Epitech.
Congratulations on this beautiful victory!